Istanbul International Airport
İstanbul Sabiha Gökçen International Airport aims to provide seamless airport experience for people traveling to and from the Turkey's 2nd busiest airport. Sabiha Gökçen has non-stop passenger flights scheduled to 80 international and 38 domestic destinations with its world's busiest single runway and single terminal airport and has created an easier travelling experience for person with reduced mobility by adding "Turkey's first barrier-free airport" to its title.
Click here to know more about the airport
Our stores at the airport
We suggest you also visit the Duty Free stores at Sabiha Gökçen International Airport next time you are visiting Turkey. There are two stores where you can buy name brand products at very competitive prices, thanks to the airport's tax exemption. Consult this website for all you need to know about our stores at the airport.
Travelers who are in terminal 1 can shop from Duty Free Departures Terminal nº: TRSA. It's a store that offers a great selection of products from categories like food, and where you can find the best products to liven up your trip to your next destination.
Those in terminal 2 can shop from Duty Free Departures Terminal nº: TRSH. Here, you can acquire fragrances and cosmetic products like skincare from brands like Clinique and Estee Lauder, which are great options to bring back home as gifts. Both stores at the airport are open twenty-four hours a day, so you don't have to worry about the time when shopping at the airport.
If you wish to shop from categories like fragrances, beauty products, and cosmetics, then don't hesitate to visit our Duty Free stores. Make the most of your visit to the Antalya airport and discover the exclusive offers Duty Free has in store for you. We hope to see you soon!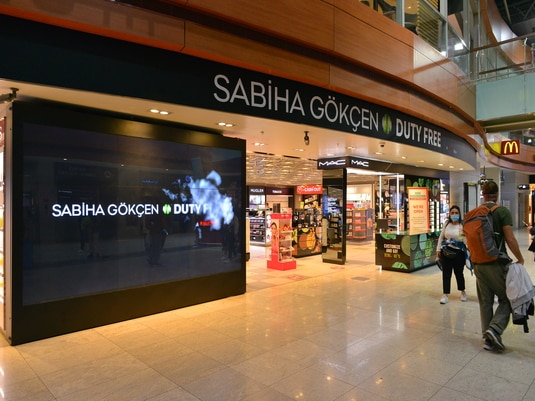 Date for Departure
Location

Departures Terminal nº:TRSA

Shop Categories

Fragances, Confectionary, Accessories, Cosmetics

Telephone

Ongoing

Email

sawsoropr@dufry.com

Opening hours

24h hours
---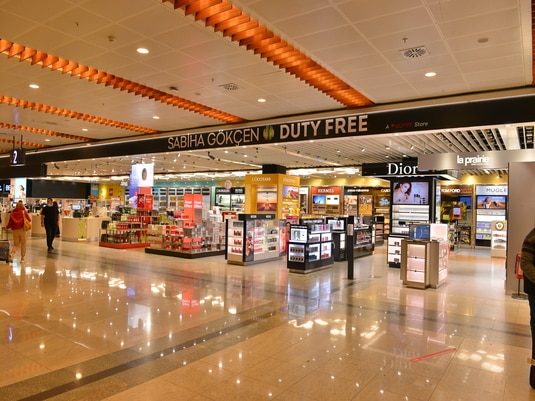 Date for Arrival
Location

Arrival Terminal nº:TRSH

Shop Categories

Fragances, Confectionary, Cosmetics

Telephone

Ongoing

Email

sawsoropr@dufry.com

Opening hours

24h hours